Delicious Substitutes For Worcestershire Sauce
Due to the lack of availability across the globe, many people are looking for suitable substitutes for Worcestershire sauce. Here, we will discuss all the details that you need to know about this tangy and savory sauce. After the covid-19 pandemic, a lot of people have started cooking themselves, so here you can know more about this amazing sauce.  First, let us see where this Worcestershire sauce comes from. Moreover, we will also discuss the major ingredients that go into this dark sauce are. We will also share what all dishes you can add this sauce to. After you have understood the background and usage of Worcestershire sauce, we will proceed to know the various substitutes for Worcestershire sauce that you can try at home if you cannot get it anywhere near you!
What is Worcestershire Sauce?
Well, Worcestershire sauce is a dark and thick flavourful condiment that can enhance the taste of a lot of dishes. The primary element that goes into this sauce is tamarind and anchovies. Just as the name suggests, it comes from Worcestershire, England, where it was originated. The unique umami taste made it extremely popular as people started using it in more and more dishes! However, there are various variants of this dark sauce, which are available across the globe. It is pretty hard to find the original tasting Worcestershire sauce as a lot of countries have made their version of this by twisting it.
Major Components
As we mentioned above, a lot of places have their own version of Worcestershire sauce. The sauce is thick, dark, and has several flavors, including umami. Furthermore, the significant items that go into this sauce are-
Tamarind

Spices

Salt

Vinegar

Anchovies

and More!
This is how it gets forms the basic taste and flavor structure. However, by adding some new items and removing some traditional kitchen components, people can change the flavors.
What About the Uses
Well, since it brings such a fantastic taste and color to anything that it is added to. People love to use this Worcestershire in various items across the globe!
Salad
As the spicy taste is enough to make any meal enjoyable, Worscetershire is heavily used in various salads and other bland meals as the people who are on a diet and into fitness have to eat up a lot of bland meals. They can get an amazing taste in green and healthy meals without adding any heavy calories with a sauce like this.
Match it with Meat!
A lot of heavy meat eaters love to pair this umami sauce with their meats! Furthermore, you can use it in marination, preparation, stir-fry, and even a dip! The sour and salty match of the sauce compliments any meat perfectly! Moreover, if you use it as an ingredient in marination, you will end up with a lump of flavourful and tender Meat as the vinegar helps the sauce to reach within!
Stir it Up
Even if you don't want to marinate any meats or cook on some barbecue grill, you can still use this amazing sauce. Just adding a bit of Worcestershire in your stir fry mix can do a lot of magic! The flavor instantly comes out when the flash stir-fried is mixed up with other vegetables, meats, rice, or noodles! Due to this stir fry magic and umami taste, it has made a particular space in almost every Asian kitchen where it is extensively used.
Why the Substitute?
As we already know, this sauce originates from London, which slowly spread its amazing taste all across the globe. However, not all nations are easily able to get their hands on it. One of the reasons is that as they cannot produce the sauce in their home county, so they have no option but to import. However, the importing and other duties make the sauce too expensive, so it is not easily seen in the general household kitchen.
Another reason that one might need the substitutes for Worcestershire sauce is that in many nations like Inda, where the majority of them are vegetarians, the ingredients doest go down well. This is because the anchovies act as an essential ingredient in the sauce. So, if a country tries to import any good quality Worcestershire sauce, it will have a good amount of anchovies. This is why a lot of countries where the vegetarians are in the majority avoid having it.
The same goes for the vegans as well as the newly popular diet style is taking over the young generation. A lot of people avoid having any form of non-vegetation ingredients. Even in the U.S.A, a lot of people have converted to strict veganism due to various reasons. Some do it for moral issues. Some do it for health reasons. Overall, a considerable population is not willing to eat any animal meat in any form. So, the only way to get the same fantastic taste is by making some creative substitute sauce.
Superb Substitutes!
Dark and Sour
If you want to get the instant Worcestershire sauce replacement, then we have a quick and effective hack for you! What you need to do to get the same taste and make this incredible substitute is just mixed the dark soy sauce and some natural vinegar. These two will indeed have the same color and similar taste that you can get in Worcester sauce. Moreover, if you want the elements to work together, add some thick tamarind paste into the sauce and follow it up with a bit of sugar. The sugar will help to balance out the punching sourness that the tamarind will bring in the sauce.
You can add this amazing sauce to a lot of amazing dishes that you may find plain and boring. One of the best ways to use or have this creative mix is in the Chinese stir fry. If you want to save yourself and the guests from a boring dinner, quickly chop up some fresh veggies and boil up some rice or noodles. Now it's time to mix it up! Heat the wok or a thin pan and add your veggies or meat and cook it in this Dark and sour sauce. Add some other seasoning, chilies and mix up the rice or noodles. Stir it up for 2 mins, and you are good to go!
Something Fishy?
If veganism is not why you do not have the OG Worcester sauce, you can definitely take up this substitute! If you are ok with having fish in your dark sauce, then do try out this hack! You need to take a small bowl and add some teaspoon of fish sauce to it. After this, add so:
Add vinegar or balsamic vinegar to add the same spicy, sour taste. Now, 

Add the thick tamarind paste to it along with a pinch of salt and sugar.  

Mix it well, and the dip is done! 
Moreover, if you want to spice the OG style up, then add some freshly chopped red chilies.
This combo of sauce and flavors will take any boring and bland meal to the next level! Along with stir fry and other ways to cook it, you can also use this sauce as an instant dip! If you have some Dimsums or cabbage rolls, then use this as a spicy dip and watch the magical change in flavors!
Barbeque
Another great way to cope up with no Worcestershire sauce is with the help of Barbeque sauce as one of the easy substitutes of Worcestershire sauce. If you have ever tried barbeque sauce, you might know the mix of spicy and umami flavors that it has. The barbeque sauce was initially made up to have to various meats and particulate to have it with grilled steak. That is why you will find a bottle of barbeque in almost every steakhouse that you will visit.
However, as the sauce got popular, it got popular with vegetarians and vegans as well. Later, the public started using this in various other dishes as well. So, it was not only limited to meats and steaks. With gradual popularity, people started loving it. In a lot of places where Worcestershire sauce wasn't available, people used this as a substitute!
Oyster Sauce!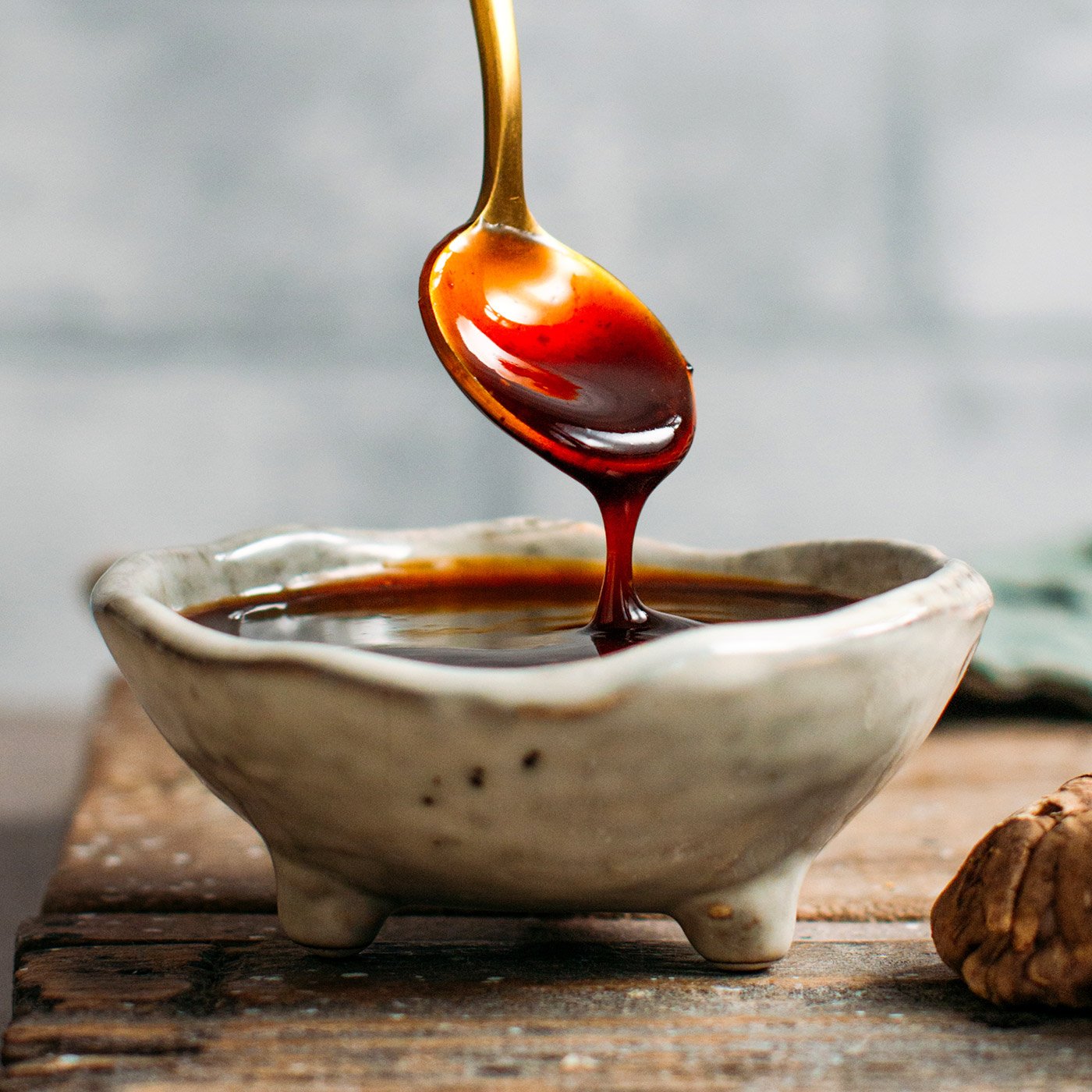 If you like the umami flavors that substitutes for Worcestershire offer, you have to try out this crazy substitute! Oyster Sauce is quite famous in the street food of Thailand and other Asian countries. One major reason why people love to dig into some oyster sauce is the subtle mix of umami and fish flavors. The oyster is comparatively quite mild, unlike the fish sauce, which has a strong essence of sea flavors.
So, if you are looking for some quick and easy Worcestershire sauce, then mix up some oyster sauce with balsamic vinegar and a bit of sour tamarind paste. Then, enjoy these exclusive flavors with whatever you like! It goes very well as marinate as well.
Conclusion
After knowing all such delicious Worcestershire substitutes, we hope that you won't miss out on anything! Moreover, now you have polished your culinary knowledge as well. Now, you are aware of the origins of the Worcestershire sauce and its major components. So, make sure to spread this flavourful info with all your foodie friends!